As diverse as winter snowflakes, photocopiers come in varying sizes, forms, and features. If you are a media company manager, you are expected to purchase the right copier suitable for your needs or get help from specialists. The busy schedule of press releases requires documents to be printed in thousands of special colour prints in the best quality, but what if these printing companies have thousands of orders; too tight to accommodate yours? The best option is to get a printer, the best ones are from copier lease rates in Austin companies.
When learning about your options on which best machine to get, here are some of those that media companies buy for themselves:
Ricoh SPC-240DN
For businesses that require thousands of prints on a daily basis, the copier that fits this purpose is one that can hold a huge volume of paper in its receptacle. A special drum is designed for fast copiers in order to produce copies at a high speed. In fact, you only need to wait a few minutes for it to make hundreds.
The Ricoh SPC-240DN offers a speed of 16ppm (page per minute) in colour and mono and it can hold as many as 250 pages on its tray. In the past decade, it costs a fortune to get one of these machines but not anymore. This copier model weighs 24 kilograms and needs some significant space on your desk. It promises to deliver 1000 pages with its toner kit which is way better than what inkjet can offer. If you choose this, you can connect through USB ports and Ethernet for convenience. However, its print resolution at 600 x 600 dpi may not produce the vividness that you are looking for.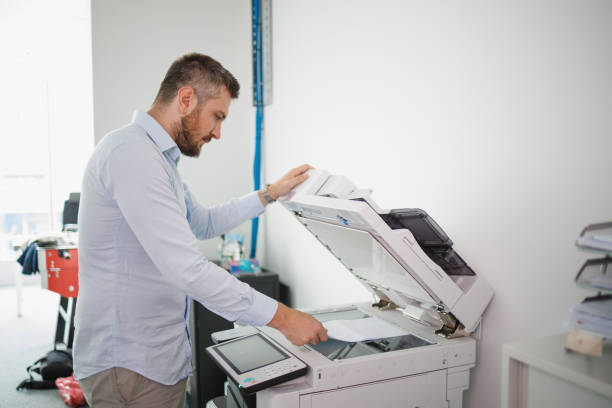 HP LaserJet 3055
If you are looking for richness in colour, which a lot of media companies prioritize, you need to choose a copier that provides high-resolution colour quality. Remember, the clarity of colour is dictated by the kind of ink used in the printer. The multifunction HP LaserJet 3055 is an all-in-one office machine. It offers other features like scan, faxing, and copying in both colour and monochrome. Aside from these, HP also offers the availability of parts online, in case something gets broken.
It offers a speed of 35ppm (A4 size) at a resolution of 600 x 600 dpi for printing and copying while it has a 300 x 300 dpi resolution for fax. It comes in a lightweight compact size with three input trays and one output tray. This particular model is suitable for small and medium-sized businesses.
Brother MFC-L8650CDW
At all times, a reliable copier leasing company is one that will provide years of good service. If you are running a company that needs a copier all the time, go with a printer that could endure the tasks expected from it without comprising quality.
Brother MFC-L8650CDW is a huge machine that offers durability as well as duplex printing at a speed of 28ppm in colour and monochrome. It has a touchscreen control monitor and is capable of delivering monthly average print-offs of as much as 3000 pages. The model also comes with an ADF (automatic document feeder) feature which can hold 50 sheets at once. Its connectivity options include Ethernet and USB with support for Android and iOS; perfect for medium size and big companies.
Getting a copier leasing service for your company takes more than just browsing for the latest model online. If called for, you can get assistance from copiers lease rates Austin specialists. Just remember to always choose a machine that can deliver the output needed in the best quality, durable enough to save you on maintenance and replacement issues.
If you plan to get copiers for your Austin office, you can opt to buy copiers or lease copiers in Austin. We can give you options for getting the copy machine that you want. You can contact our local copier leasing services department in your location.
If your location is around Austin, you may call us at (512) 253-7000, and our personnel for copier leasing in Austin will assist you. If you are also looking for copier repair services in Austin, you may contact our copier repair personnel with the same number.