The overall success of your business depends on the financial decisions that you make. One of them is deciding whether or not you should lease a copier or just purchase it.
As a business owner or a purchasing manager, all of your financial decisions must be firm, and sound and they should stay within your operational budget, thus making maximum profit. Keep in mind that leasing a copier is not just about getting one for your office, it is about communicating too.
Whether you buy or lease a copier is a massive decision. The bottom line is that even if you do have the extra capital lying around, there should still be distinct advantages of office copier leasing from your business.
Office copier leasing: It's' all about communication
Regardless of what product or service you are purchasing for your office, it is always a great idea to have many options. But when it comes to office copiers, the possibilities might seem endless. Not only are there a lot of products that you can choose from, but you have options on how you can pay for them.
The advantages and disadvantages of office copier leasing in Austin pertain to the requirements of your business. But there are a few advantages that can benefit any business, may it be large or small.
One of the most important advantages of leasing copy machines is that there is less upfront capital that is required. This option is very helpful, whether you have the money on hand or not.
You also do not need a down payment. When you lease a multifunction printer, there is typically no down payment needed. This means that you do not need any money when you are signing the lease agreement or the service level agreement or SLA. The need for little cash or no cash at all allows you to get the copier that your office needs.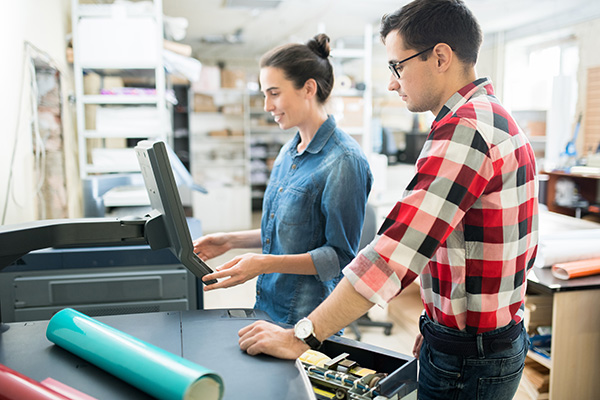 Also, instead of paying for the whole copier upfront, leasing allows you to make monthly payments. Monthly payments can help manage cash flow and it ensures your business is operating within a budget. Leasing a copy machine can also allow you to allocate capital towards other areas of your business.
If you use all of your extra capital to buy a copier, and you suddenly have a business expense emergency, then you will be in trouble. Your safety net is gone and the company is in shambles. Leasing a copier can help prevent this from happening.
Starting a Business with your Copier Lease Equipment
Technology becomes obsolete fast. Just like cell phones and computers, copiers also need an upgrade every few years. The thing with purchasing a copier is that it may be brand new for a few months and it may be the latest, but after that, a new model will arrive and you will have to change it just so you will be up-to-date with the features.
Technology changes constantly, and that is true for copiers and printers. There are updated models that are released almost every year. It is not financially wise to upgrade office copiers if you have purchased them as they are expensive and may strain your budget, you will just lose a lot of money.
The most beneficial way that you can receive a return on investment when buying an office copier is by paying it off and by using it constantly. However, this option can be frustrating if your business benefits from staying up-to-date with technology. 
Leasing office copiers allows your company the ability to upgrade more often without losing money because you won't have a massive sum of capital tied up in the copier.
If you plan to get copiers for your office in Austin, you can opt to buy copiers or lease copiers in Austin. We can give you the option to get the copier that you want.  You can contact our local copier leasing services department in your location.
If your Location is around Austin, you may call us at (512) 253-7000, and our personnel for copier leasing in Austin will assist you.   If you are also looking for copier repair services in Austin, you may contact our copier repair personnel at the same number.